We recently saw the Nike Hypervenom Phelon II boots and given the price tag had to investigate further!. Turns out these stylish boots have been made in 38 styles of the Nike Hypervenoms making sure there is a pair to suit your needs.
Have a weak ankle?…Try the Nike Hypervenom
But after spending over 2 hours reviewing this collection of football boots, we finally chose a winner. The Nick Hypervenom Phelon II football boots.
And here is their best kept secret. The Nike Hypervenom Phelon II football boots have an intentionally moulded and perforated sockliner. And before we hear your ah-ha moment, it's not there to reduce blisters and foot sores. These intelligently built sockliners have been scientifically researched to reduce stud pressure should you make contact.
Nike Hypervenon Phelon II Review
1 – The Colour.
Let's face it, football boots are just as much about style and statement as they are about how they fit and function. There aren't many football boots in copper this season, and the Nike Hypervenon comes in 13 different style of copper. They colour looks premium and slick, and are a royal winner for their stand out this season.
2 – Price.
The 38 different Nike Hypervenom football boots start at a modest and affordable £29.95 for youngsters going right up to £239.99 for an all enhanced version. Our absolute no brainer winner was the Nike Hypervenom Phelon II in copper at £60. It's got all the features you need for improving agility and on pitch performance whilst being at an affordable budget.
3 – They are pitch perfect for 6 different playing situ's.
The Nike Hypervenoms have been made for: firm ground, artificial grass, soft ground, indoor, indoor court and AstroTurf, meaning that you wil benefit from a firm grip whatever your football demands, which enables you to improve your speed and agility. For this incredile detail alone, we are impressed with the consideration Nike has put into this range.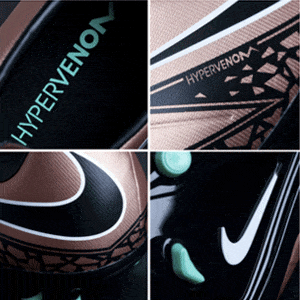 4 – Agility.
We all want to be fast, and don't underestimate the power a good pair of boots that have been well designed will give you. The Nike Hypervenom Phelon II football boots offer enhanced agility with their lightweight and skin tight fit, whilst giving strategic support to your ankle, toes, heels, inner and outer foot for making skilled moves and turns on pitch. The anatomical fit locks your foot into the boot whilst providing ball assistance with their textured, leather-like upper and side for enhancing ball touch and maximising your control.
5 – The Cut.
The Nike Hypervenom Phelon II have been cut from a model of our foot anatomically, building each piece to cover your foot with a glove like fit to enhance performance and agility
6 – Asymetric Lacing System
Although not new, Nike are continuing to produce boots in the Hypervenom Phelon range with an asymmetrical lacing system located away from the areas where your foot makes contact with the ball. This well developed and subtle design enables you to expand your ball control area and strike zone, ensuring that your boot does not interfere with your football play, and enabling you to maximise your attacking potential on firm ground playing surfaces.
7 – Material Quality.
Although the Nike Hypervenom Phelon II in copper have artificial leather, we are impressed with the quality of teh boot and it took us a good close eye to tell the real leather boots from the artificial ones in this range, giving them a premium look for a small price tag, and improved touch.
8 – The Sockliner.
As mentioned above, the intelligent designers behind the Nike Hypervenom Phelon II football boots have added a molded and perforated sockliner scientifically researched to reduce stud pressure.
9 – TPU Plate.
There is a built in TPU plate which provides you foot with protective support, whilst being flexible enough to enable your feet to be responsive during matches or training.